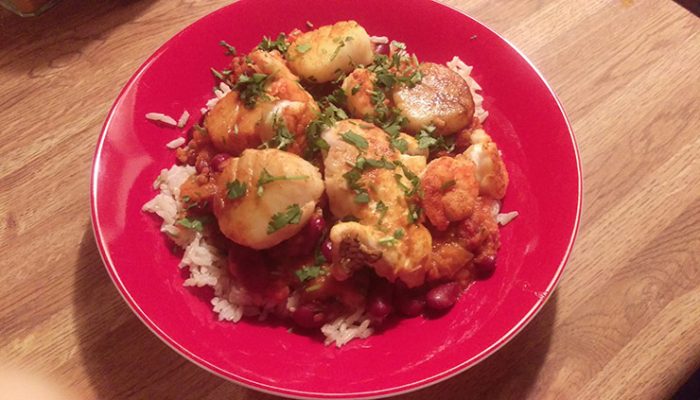 Spring is finally here and I'm getting excited for some lighter seasonal foods.
This is a great recipe that works with any type of meat or all by itself. I usually like to pair the dish with grilled or sautéed seafood or grilled chicken marinated in curry.
Whenever legumes like kidney beans are paired with grains like rice, wheat, or corn they form a complete protein. Beans and rice aren't something you could subsist on alone indefinitely, but they're a great healthy meal that can be accompanied by other vegetables and fruits if you want to avoid meat and stay healthy.
If you're local to the Raleigh area check out Locals Seafood. They have a great year-round seasonal selection of NC caught seafood that arrives daily. If you're looking for beef, chicken, goat, etc, Lilly Den Farm can get you taken care of.
If you're in Clearfield, PA, Kerr's Farm has sustainable beef at a great price.
I use a 1 gallon sauce pan when I make this. Again, I suck at providing amounts and measurements. I just throw it all in the pot.
Ingredients:
– 1 Can or Dried Equivalent Kidney Beans
– 2-4 Cans Crushed or 12-15 Large Fresh Tomatoes
– 2-3 TBSP Turmeric (can be powdered or fresh)
– 1 Small Onion
– 1/3-1/2 Medium Red Bell Pepper
– 1 Piece Garlic
– Fresh Cilantro
– Cayenne Pepper
– Brown Rice
– Nan (optional bread for the meal)
Directions:
If you're using dried beans you will want to get those prepped and cooked before you begin.
Get tomatoes ready. If they're fresh you will need to chop them up into fine pieces. A food processor is best. If you're using canned tomatoes get them opened.
Get your onion, garlic, and bell pepper chopped up. Also chop up a bit of cilantro to throw in. Maybe a 1/4-1/3 cup or so.
Heat a sauce pan on medium-high with some animal fat (duck fat, butter, etc). Throw in the onions, peppers, and garlic. Sauté for a few minutes.
Pour tomatoes into pan and stir. Lower heat to medium once sauce starts to boil.
Add the chopped bit of cilantro.
Add your turmeric. Admittedly, I have never measured this part. I just know I need to add a lot. It feels like about 2-3 tablespoons. If you're concerned add half and then add more later after it's had time to cook and break down.
You'll also want to add your cayenne pepper now. The amount definitely depends on how hot you want it to be. Add a little now and then go back and add more if you want more heat.
Stir everything together and reduce the heat down to medium-low or low. Sometimes if I don't have a lot of time I will cook it at medium or medium-low and reduce it the heat down as the sauce evaporates and thickens. Let it cook without a lid if you're using fresh tomatoes so the sauce can thicken. It usually needs to cook 2-3 hours on low. About 20-30 minutes before it is done, add your kidney beans and stir those in.
Get your rice cooked. Be aware that organic brown rice will take about 40 minutes as opposed to processed fast cook rice.
Get your meat cooked if you're having any. You can time it so it's ready when the beans and rice are done, or you can just let them chill on the stove and cook the meat when you're ready to eat.
Place a portion of rice on a plate and top with the beans and rice. Add the meat if you're having any. Garnish heavily with chopped cilantro and serve with bread (nan).
I really like to use scallops, shrimp, or tilapia. Grilled chicken is great, too. If you're using scallops be sure to get dry-pack scallops, not wet-pack. Wet-pack scallops have been treated with phosphates to give them more weight. The scallops easily absorb the phosphates and swell in size and weight (so you get less for more money). When cooked they tend to shrink because the water evaporates and they are bitter. And I mean bitter like someone crushed up aspirin in your food. It ruins the entire meal. I did this once. I cooked a marinara sauce from scratch and then added the scallops at the end. It permeated the sauce and it all tasted like there was crushed bitter pills in it. I looked up bitter scallops on Google and voila. Mystery solved.
Another thing to consider is using non-irradiated spices. Fresh is always best, but if that isn't possible then look for organic spices that say they are non-irradiated. Irradiation is the process of ionized radiation through which most spices are subjected to. It increases shelf life, but kills all of the valuable nutrients and vitamins within, while at the same time may contain carcinogenic chemicals as a result of being exposed to radiation.