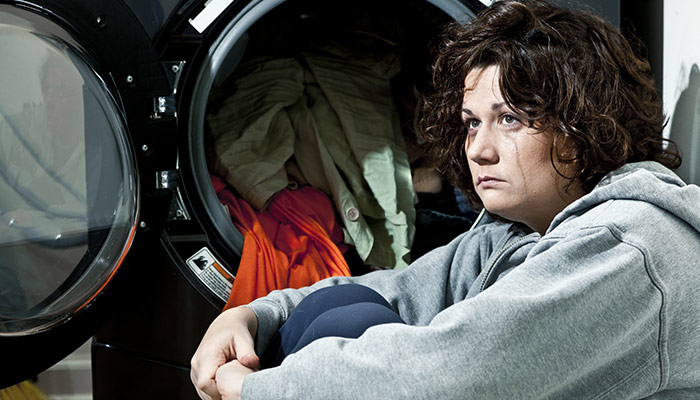 I'm willing to bet anyone that purchased an HE washer has buyer's remorse like a mother f*cker.
I know a lot of folks that hate their HE washer because it smells. I hated mine. I still do, kinda… It's annoying that they can't make them not smell. What does it smell like? Let's take to Google to see what others have typed in:
Smells like rotten eggs. Check.
Smells like mildew. Check.
Smells like sewer. Check.
So yeah. We bought an HE washer a few years ago. When we bought it the salesman said we would have to clean it with Affresh tablets or it would smell. That should have been a sign that we shouldn't have bought one, but hind sight is 20/20…
Sure enough, within a few months all of our clothes and linens smell like shite. The Affresh tablets aren't cheap, either. So I start this long, shitty journey of trying to find detergents and stuff that don't make me sick (from the synthetic scents) and will still clean the clothes. Months go by. I hobble along.
Then I discovered Charlie's Soap Laundry Powder. I originally found it on ThriveMarket.com and I JUST ordered some more, but it appears to be out of stock now. Anywho… The reviews were awesome so I said "What the hell?" and tried it. I mean, look at what the product boasts and the ingredients:
Biodegradable natural laundry detergent in concentrated powder form*
Deep clean and detox your Laundry for only pennies per load!
Removes entrapped odors and stains
Removes residues from your previous detergent.
Just one tablespoon per large load
Hypoallergenic, non-toxic and safer for the environment.
Works on all your laundry, even hi-tech fabrics and delicates
Say bye-bye to fabric softeners
Ingredients
Based on an earlier Charlie's Soap formula designed for textile quality control labs, Charlie's Soap Laundry Powder is truly the answer to getting the cleanest clothes for just pennies per load while caring for the environment.
NATURAL MINERAL INGREDIENTS: Sodium carbonate, sodium metasilicate (rinse aid formed by heating a mixture of sand and sodium carbonate)
BIODEGRADABLE INGREDIENTS: C12-15, Pareth-2 (Vegetable and mineral sourced surfactants)
*Source: Charlie's Soap

No more fabric softener??!! Non-toxic chemicals??!! Safe for the environment??!! Sign me up!
I started using it last November. I really put it to the test. I washed dog-slobbered dog beds, mildewy stuff, kayaking stuff… I was determined to prove that this stuff was bullshit.
I immediately noticed a difference. The clothes actually smelled like nothing. In fact, they were so devoid of scent that I started using essential oils to create scent. The thing I noticed before using Charlie's was that the clothes would smell kinda clean when I took them out of the dryer, but days later the smell came back. With Charlie's, they stay scent free with no nasty smells returning. I also haven't had to clean my washer since November.
By using the essential oils, I can create any scent I like and switch up if I want. I have been using doTERRA's On Guard. This stuff is fantastic. It smells like Christmas – Clove, Cinnamon, Citrus… AND it cleans. On Guard became so popular, doTERRA has created an entire line of products that are made from the oil blend. This blend is a must if you have little ones around the house.
I have been using the On Guard with wool dryer balls and these work great to preserve the scent. I add 2-3 drops of On Guard to the dryer balls and toss them into the dryer.
So if you're out there struggling, please know it doesn't have to go on and you're not alone. There is hope. 😉