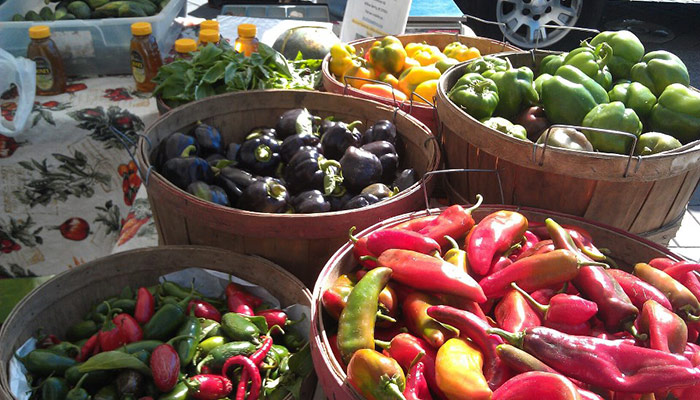 We have had a mild winter thus far.
Fortunately it doesn't get too crazy down here in North Cackalacky (my reasoning for moving here). We did just have a frost after all the trees started to bloom during a warm spell over the last week or so. I hope the farmers out there were able to save their fruit trees.
One thing that comes with spring is the return of the farmers' markets. I can't tell you how excited I get about this. The picture above is of Hilltop Farms' produce at the Downtown Raleigh Farmers' Market, which will be open on April 19 – October 11, Wednesdays from 11:00 am – 2:00 pm. This market is close to my house and has a lot of organic and sustainable farmers considering the market itself isn't that big.
In addition to Hilltop Farms, there is also Wild Onion Farms. They sell the best heirloom tomatoes I've ever tasted. Their Kellogg's Breakfast tomatoes are seriously insane. They are a light, warm orange color and the flavor is almost floral. They tend to have a lot of water in them so they don't make great canning tomatoes, but I can them anyways cuz they're frickin' good. They do really well for BLT's and Caprese salads.
Another vendor that's usually at the Downtown Raleigh Farmers' Market is the Hillsborough Cheese Company. They have some really good cheese made with fresh local milk. Their mozzarella was made to go with the Kellogg's Breakfast tomatoes, some basil, olive oil, and a balsamic vinegar reduction for that Caprese salad. SO. GOOD.