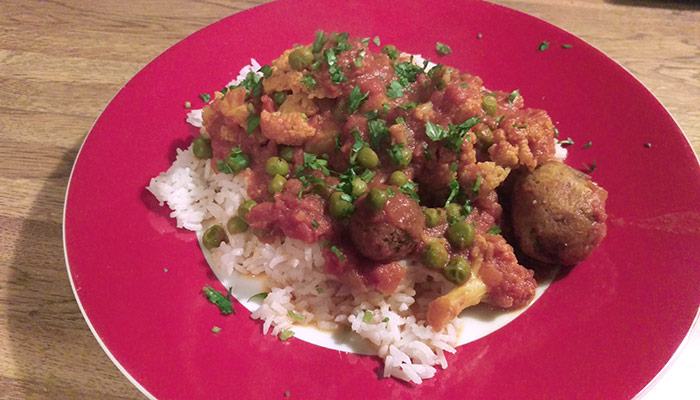 I absolutely love Indian food.
The first time I ate it, I hated it. My palette wasn't used to such flavors. In Pennsylvania, we're meat and potatoes. No spice, no flava. Just food. Good food, but just food. Nothing exotic. After my first experience, I decided to tackle my leftovers the next day. It tasted good to me and I've been hooked ever since.
It took me a long time to learn how to cook it. So many spices are involved. It is intricate. Now I can make some pretty good stuff; the Aloo Gobi Masala and Curried Rabbit are my specialties. So without further ado, here's my recipe for Aloo Gobi Masala:
– 1 Medium Cauliflower, cut to bite size florets
– 2 Large Potatoes, cut to bite size pieces, or small whole potatoes
– 1 Cup Fresh or Frozen Green Peas
– 2 TBSP Butter or animal fat (ghee or duck fat works great)
– 1/2 Tsp Cumin Seeds
– 1 Pinch Asofoetida (optional)
– 1/2 Tsp Turmeric Powder
– 1 Medium Onion, finely chopped
– 1 Inch Piece Ginger, minced
– 5 Cloves Garlic, minced
– 2-8 Large Tomatoes, chopped
– 2 Tsp Coriander Powder
– 1 Tsp Cumin Powder
– 1 Tsp Garam Masala (optional)*
– Red Chili Powder to taste
– 1/2 Tsp Dry Mango Powder (Amchur) or fresh Mango equivalent
– Salt to taste
– 5 Sprigs Cilantro, chopped for garnishing
– Basmati Rice
*You can make your own Garam Masala with Clove, Cinnamon, Nutmeg, Bay Leaf, Cumin, Peppercorns, Cardamom, and Mace.
Directions:
Heat Oil in a medium non-stick pan.
Add Cumin Seeds and allow them to sizzle.
Add Asofoetida, Turmeric Powder, and Onions — mix well and sauté for 3-4 minutes.
Add Ginger and Garlic — mix and sauté until oil starts to separate from the onions (stir frequently).
Add Tomatoes — mix and reduce heat to low. The amount of tomatoes you want to use depends on how saucy you want the dish. I like to have some extra sauce for my Nan, so I add extra tomatoes.
Scrub Potatoes clean and drop into sauce if they're small. If they are large potatoes, cube them into big chunks.
Wash Cauliflower and chop into bitesize florets. Add to sauce. Stir gently ensuring potatoes and cauliflower are covered by sauce.
Once oil has separated from the tomato mixture, add Coriander Powder, Garam Masala, Red Chili Powder, Cumin Powder, Dry Mango Powder, and Salt — mix well.
Add Green Peas and cook until all veggies are tender, but not mushy and falling apart. The cook time will be determined by how thick you want the sauce and how much water is in your tomatoes. Fresh tomatoes take longer to boil the water out. I typically use fresh when possible and it takes a few hours to cook. When I used store-bought canned sauce it usually takes less time, maybe 1.5-2 hours-ish.
Steam Basmati Rice with 2 whole cloves and a dash of cinnamon. Remove cloves when it's done and put the Aloo Gobi Masala over it.
Garnish with chopped Cilantro Leaves and serve with Nan, Chapatti, Paratha, or Daal. Fresh Mango Lassis are also a great accompaniment.