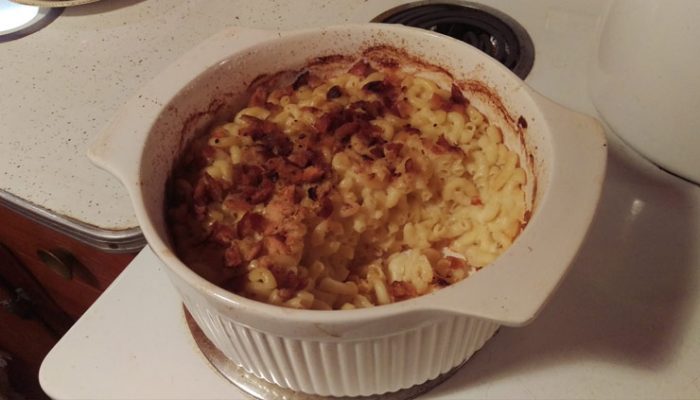 Macaroni and cheese tends to get a bad rap.
Typically when we think of mac and chee, we think Kraft or Velveeta. Gross and more gross. It doesn't have to be this way. Mac and chee CAN be good. So good, in fact, that I forgot to take a picture of mine before I dug in and destroyed it, hence the terrible picture.
Ingredients:
– 8 Ounces Uncooked Elbow Macaroni
– 2 Cups Shredded Sharp Cheddar Cheese
– 1/2 Cup Grated Parmesan Cheese
– 3 Cups Milk
– 1/4 Cup butter
– 2 1/2 TBSP All-Purpose Flour
– 2 TBSP Butter
– 1/2 Cup Bread Crumbs
Directions:
Cook macaroni according to the package directions and drain. If you use De Boles macaroni do not cook it for the full length of time indicated on the box. It will be overdone. It only needs a few minutes to cook.
In a saucepan, melt butter over medium heat. Stir in some flour to make a roux. Add milk to roux slowly, stirring constantly. Stir in cheeses, and cook over low heat until cheese is melted and the sauce has thickened. Put macaroni in large casserole dish and pour sauce over macaroni. Stir well.
Melt butter in a skillet over medium heat. Add breadcrumbs and brown. Spread over the macaroni and cheese to cover. I always save the ends of a loaf of bread and freeze them for making bread crumbs.
Bake at 350˚ F (175˚ C) for 30 minutes. Serve.