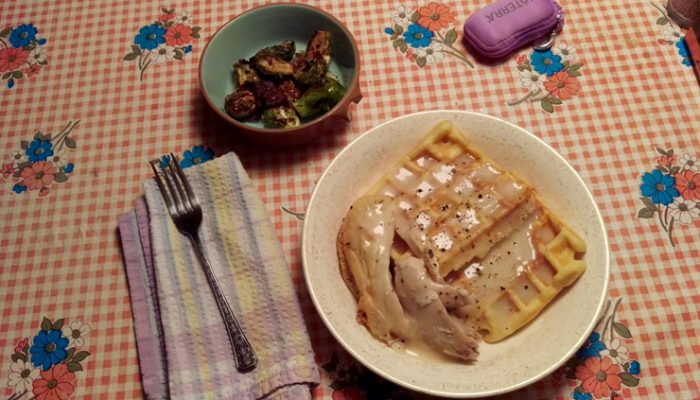 This is one of my nearest and dearest recipes.
My grandmother makes the best chicken and waffles. I love nothing more than going to her house and her making this dish for me. We have dinner and chat and it's lovely. She just turned 89 and is as spry as ever.
Below is the recipe for you to enjoy. It's great on a cold and/or rainy night (especially at camp).
Ingredients:
– 1 Whole Chicken
– Chicken Broth or Better Than Bouillon
– Salt
– Pepper
– Water
Gravy:
– All-Purpose Flour
– Water
Waffles:
– 2 Cups All-Purpose Flour
– 1 Tsp Salt
– 4 Tsp Baking Powder
– 2 TBSP Sugar
– 2 Eggs
– 1 1/2 Cups Warm Milk
– 1/3 Cup Butter, Melted
– 1 Tsp Vanilla Extract
Waffle recipe courtesy of allrecipes.com
Directions:
Brine chicken with Kosher salt or Real Salt a couple days beforehand if using organic, free-range poultry. I always try to salt it for at least 24 hours before I cook it. This locks in moisture. I like Real Salt better for chicken.
Place chicken in a roaster pan with a decent amount of water (to make your gravy) and add some chicken broth or Better Than Bouillon. Add a bit of salt and a good helping of pepper to the top of the bird. Cover and cook at 350˚for about 2.5 hours. Cooking time will depend on the size of your bird. When the meat falls off the bones it's done. Always use a meat thermometer to make sure.
Remove the chicken from the oven and let it sit for a bit. While it's cooling, you can make the waffles and gravy. Try to have a green vegetable with the meal. All these fat and carbs need a vegetable to properly digest. Have a salad beforehand. Alternately, some asparagus or roasted Brussels sprouts with bacon, garlic, and a balsamic vinegar glaze (pictured).
For waffles, mix together flour, salt, baking powder and sugar and set aside. Preheat your waffle iron.
In a separate bowl beat the eggs. Stir in the milk, butter, and vanilla. Pour this mixture into the flour mixture; beat until blended.
Ladle the batter into a preheated waffle iron. Cook the waffles until golden and crisp. Serve immediately.
For the gravy, get a bit of flour and COLD water in a jar or mixing cup, cover, and shake well. DO NOT use hot water. It will explode and you will have hot sticky flour dough all over yourself. It's like f*#king napalm. The amount of water needed depends on how much broth you have to work with. Too much will dilute it and the gravy will taste like flour. As a last resort you can also add a bit more chicken stock or Better Than Bouillon.
Pour your chicken broth from the roaster into a sauce pan and get it boiling. Get a wire whisk and very slowly pour the flour/water mixture into the boiling stock, whisking it very quickly the whole time. If you pour in too much it stops the broth from boiling and it becomes dough. Patience, young grasshopper…
Now you're ready to eat! Dish out some chicken and waffles. Ladle gravy over both and dig in.