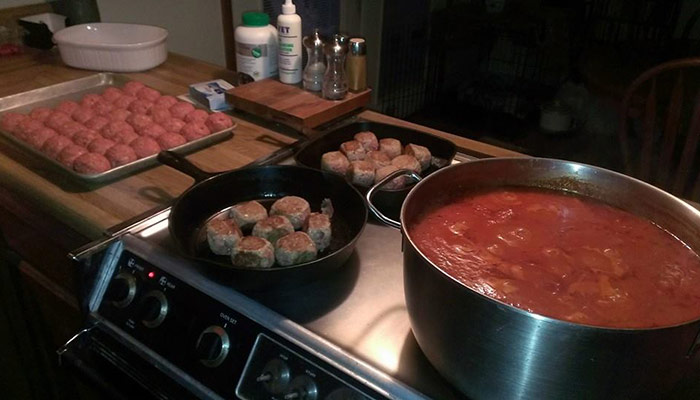 I will preface this post by saying I suck at providing measurements, amounts, and quantities.
A lot of these recipes are my own or a combination of multiples into one. I just throw stuff together. I apologize if my recipes are vague at times.
Another facet to consider are personal preferences. I don't like a shit ton of garlic in my food. I don't want to taste it every time I burp for the next two days. Some folks love large amounts. You may want to adjust the ingredients to suit your tastes.
This recipe is involved and is a project, not just a dinner. Plan to freeze some of it so your hard work can help you on another night when you just don't feel like cooking or don't have time.
If you're local to the Raleigh area and are looking for a meat and/or dairy source, check out Lilly Den Farm. I've been buying from them for years now. Great people.
Ingredients for Sauce:
– 1/4-1/2 Whole Garlic Bulb
– Vidalia or Sweet Onion
– Small Green and/or Red Bell Pepper
– Oregano
– Basil
– Cayenne Pepper (optional)
– Sugar
– Olive Oil
– 1 Small Can of beef broth or 1 Tsp of Better Than Bouillon
– Parmesan Cheese (optional)
– Pork Chops, bone in
– 1-2 lbs Ground Pork
– 8 Cans of Tomato Puree or Crushed tomatoes. If using fresh tomatoes, you'll need about 30-ish for a 2 gallon pot.
Ingredients for Meatballs:
– 1/4 Whole Garlic Bulb
– Vidalia or Sweet Onion
– Oregano
– Parsley
– Basil
– 7-10 Eggs
– 3-4 Cups Parmesan Cheese
– 5-6 Cups Bread Crumbs
– 1 lbs Ground Beef (optional)
– 3 lbs Ground Pork
– 1/2-1 Cup Hot Water
Directions for Sauce:
I prep this stuff before I start cooking. I always make the sauce first and then use the remaining garlic and onion for the meatballs.
Get all of your sauce cans opened up and waiting or get your fresh tomatoes processed in a food processor.
I mince the garlic in a tiny food processor. I put it in a little bowl and then chop up the onion in the food processor. Put the onion into its own bowl (not with the garlic).
Then dice the bell pepper in the food processor. You only need a bit of this. Green pepper will be more tart. I prefer red bell pepper as it yields a sweeter taste. Usually for a whole pot of sauce, I will chop up about 1/4-1/2 pepper depending on size. Do not use the whole pepper. It will ruin the sauce if you add too much (in my opinion).
Get your sauce pot out and put some animal fat in the bottom of it (butter, bacon fat, or duck fat). Set the temperature on MED-HI. Add some of the onion and cook a couple minutes. Then add some of the garlic and bell pepper.
Get that stuff sautéing and let it simmer a bit to get the veggies coated in the fat but don't over cook or burn. While that is cooking put a bit of animal fat in a cast iron frying pan. Get it nice and hot and sear your pork chops to be dropped into the sauce.
Once your sauce base has had time to simmer a few minutes, add the ground pork and brown. Stir frequently to break it up into tiny pieces. Add some basil, oregano, and cayenne pepper. Add your tomatoes. Add some olive oil, add about half the can of beef stock or beef bouillon, the sugar, and some parmesan cheese (optional). Stir that all up. Careful not to add too much sugar right away – it needs time to melt to really see how sweet you've made it.
Drop in your pork chops and let those guys cook all day until they fall apart. Careful of the bones – they are sneaky.
The sauce will not taste good for many hours. That is why I add all of the spices little by little. I will come back and add more Oregano and sugar later on. Can always add, but not take it out! This is also why I don't add salt until the end. The beef stock, and especially the bouillon paste, is very salty. You may not need to add as much.
I usually cook my sauce all day on low. I put it on when I get up in the morning and it's done at dinner time. It always tastes better the next day, though. If you used fresh tomatoes it will need to cook longer to evaporate the water. Canned sauce usually takes less time, but I let it cook all day to get all those herbs and spices to break down and give it that flavor.
Directions for Meatballs:
Get a huge bowl and drop in the ground beef and/or pork. Add your remaining onion and garlic. Then add some oregano, basil, and parsley. Add the Parmesan cheese (about a 1/2 cup per pound). Add the bread crumbs (about 1 cup per pound). Add the eggs (about 2 per pound). I usually never add that many eggs. Two eggs per pound seems to make them too soft once you add the hot water. The amount of eggs above is what I usually put in for 4-5 pounds of meat. I start mixing it up a bit as I add the eggs so I can see how mushy it is already. I am conservative and usually stop on the low side of the 7-10 eggs. Then you can add a splash of hot water and start mixing it up. You will see if the meat needs more hot water, as it should be soft, but firm enough to hold it's shape.
Once you have the mixture done, you can get them fried. Can use the same pan as the pork chops. Might need more animal fat. Roll the balls about 2-2.5 inches in diameter. Fry them on all sides and gently add them to the pot of sauce. They will only need about 45 minutes to an hour to cook, but you can cook them all day if you want. They will be fine.
If you are making stuffed shells, use the same meat recipe and follow the cheese mixture recipe on the box of shells. You will need two boxes of jumbo shells. That will make you two full pyrex cake dishes of meat and cheese, plus two additional smaller ones for freezing.