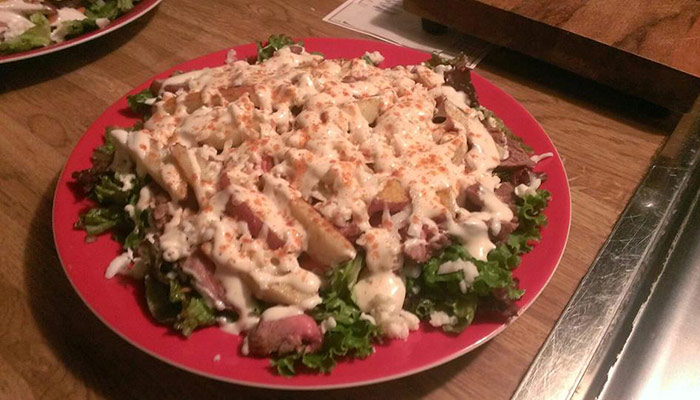 Above even perhaps our kraut, cheese steaks, and perogies is the PA steak salad.
This lovely creation of salad-gone-unhealthy is an immediate favorite of anyone that tries it, no matter where they're from. It starts as a regular salad and becomes a full meal by adding french fries and steak. Real steak, not that chipped steak crap. The unhealthy part comes in with the ranch dressing. I guess the fries aren't so great, but roasting them vs. frying helps.
Ordinarily when I eat a salad, I always use a vinaigrette or oil and vinegar. Not on a steak salad. I believe this to be sacrilege. It's got to be ranch, at least the first time you try it so you can get the full experience.
This is the closest a salad ever came to being comfort food. Gah… I'm starting to salivate.
Ingredients
– Beef London Broil
– Potatoes
– Spring Mix Greens
– Red Leaf Lettuce
– Green Leaf Lettuce
– Romaine Lettuce
– Onion
– Carrot
– Red Bell Pepper
– Fresh Cilantro (2-4 sprigs)
– Fresh Dill (2-4 sprigs)
– Mushrooms (optional)
– Tomatoes (optional)
– Cayenne Pepper
– Animal Fat (duck fat, bacon fat, butter)
– Sugar
– Mozzarella Cheese
– Ranch Dressing
Marinade for Steak:
– Melted animal Fat (duck fat, bacon fat, butter)
– Bragg's Apple Cider Vinegar
– Diced Onion
– Minced Garlic
– Oregano
– Kosher Salt
– Pepper
Directions
Get marinade ready and put london broil in it for anywhere from 45 minutes to 24 hours. Depends how much of those flavors you want to bring out in the meat. If I know ahead of time that I have to cook them to different temperatures, I will cut them into single servings and then marinade.
Note the use of animal fat as opposed to olive oil for the marinade. Olive oil goes rancid at high temperatures. London broil tends to be very lean, so I like to give it a coating of fat so it doesn't dry out on the grill. I usually go with duck fat or bacon fat. Butter tends to burn, but it will work, too.
Heat oven to 425˚. Prep potatoes. You can slice them however you like. I just try to keep them bitesize, whether I'm slicing (fries) or cubing them. Sometimes I will heat the oven to 350˚ to cook them and then turn on the broiler to crisp the tops.
Place the sliced potatoes into a bowl with some melted duck fat, salt, and sugar. Toss them in it so they're all coated and gritty. I urge you to try the duck fat when frying or roasting potatoes. This is considered a delicacy in France. Once I tried it, I saw why. It gives them such a light flavor. It's really tasty.
I never use vegetable oils for high temperature cooking, as they go rancid at about 225˚ and up (depending on what oil you're using).
Lay the potatoes out on a cast iron griddle (if possible) or any other type of baking sheet. Bake until insides are tender and outside is at desired crispness. Usually about 20-25 minutes.
While potatoes are cooking get your steak on the grill. Depending on how well-done they need to be, you may need to put them on before you get the potatoes in the oven so everything will be done at the same time.
Once both potatoes and steak are cooking, get your greens ready. Grab a big bowl or pot to mix everything in. I like to use spring mix and combine with red and green leaf lettuces, along with Romaine. This allows me to get lots of different greens in one meal. I especially like how green leaf lettuce tastes.
Add the chopped dill and cilantro. These two herbs play an important role in giving the salad its final flavor. Mix all the greens and herbs together and place them on your dinner plate/plates. Add very thinly sliced onion, mushrooms (if desired), sliced carrots, chopped red bell pepper. The red bell pepper is another vegetable that really gives the whole salad life and depth.
Then you want to add your steak. I like to slice it thin so it's bitesize. Then the potatoes go on top of all that. Add your shredded Mozzarella, ranch dressing, and top with some cayenne pepper for bite and color. I like to let the Mozzarella sit on the fries and steak for a minute before adding the dressing to allow it to melt. If the ranch dressing is already cold, it will keep the cheese from melting.