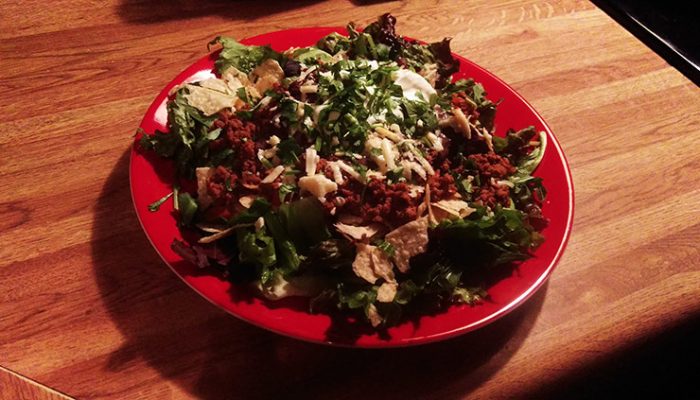 Venison is a great alternative to beef and chicken.
Venison has more vitamins and minerals per serving than beef, packed with iron and B vitamins. It has more protein than beef which means it's filling. Venison is super lean, too. The body loves variety and we get stuck on beef and chicken a lot. If you have the means, work some venison into your diet when possible. Below is my recipe for an easy venison taco salad.
Sauce Ingredients
– 1 lb Ground Beef
– 1.5-2 lbs Ground Venison (or use all beef)
– 1/2 Cup Chopped Onion
– 1 Clove Minced Garlic
– 1/4 Cup Green Bell Pepper
– 1/4 Cup Red Bell Pepper
– 1/4-1/2 Tsp Oregano
– Cayenne
– Coriander
– Cumin
– Tomatoes*
– Molasses
– White Vinegar
– Salt
Salad Ingredients
– Salad Greens
– Plain or Lime Tortilla Chips
– Refried Black Beans
– Sour Cream
– Cilantro
– Shredded Cheese (I use pepperjack)
*Use fresh tomatoes or a country tomato (tomatoes that still have the seeds and some water in them). DON'T use tomato sauce. It will end up like spaghetti sauce. I use Yellow Barn Biodynamic Country Tomato brand if I don't have fresh tomatoes available. One jar should do it.
Directions
Most of these ingredients don't have measurements because I made the recipe up. I add ingredients according to what I like. I add just a little oregano, even more coriander, and even more cumin. The cayenne will depend on how hot you want it. The molasses will depend on how sweet you want it. The vinegar balances out the molasses and gives it that tang. I add stuff and then taste it after it's been cooking for a while. Then add more as needed. For the meat you can use any ratio you like. I like more venison than beef. I like to add some beef to give it that good flavor since venison is so lean.
Brown meat. Add onions, garlic, and bell peppers just before meat is done browning. Saute until veggies are soft. Add oregano, cayenne, coriander, cumin. Stir spices into mixture. Add tomatoes, molasses, white vinegar, and salt. Stir and bring to a boil. Once boiling, reduce heat to low and let cook for a couple hours. The cook time will depend on what kind of tomatoes you use. The more water they have in them, the longer they'll take to cook and thicken up.
When the meat is almost done, heat up refried beans on low. While those are heating, cut up salad greens and make salad. Layer crushed tortilla chips over salad. Add meat over chips. Add refried beans over meat. Add shredded cheese, sour cream, and cilantro as garnish.